3rd Quarter 2023 Newsletter
July's Captain's Log

A growing trend in our industry is that more and more people are having their wealth professionally managed!
A Registered Investment Advisor (RIA) is a firm that is regulated by the Securities and Exchange Commission and specializes in giving financial advice and managing investments.
At the end of 2020, RIA's managed a collective $110 trillion supplied by over 60 million clients around the US. This compared to roughly $20 trillion at the beginning of the century.
Specifically, people are looking towards fiduciary's to navigate their investment portfolios. A fiduciary means that we are required to put our client's interests before our own when making financial decisions.
At Anchor Wealth our advisors act in a fiduciary capacity for our clients.
"This provides for a high-touch and client-focused model that is gaining traction in the US. More and more people are choosing a fiduciary to manage their wealth like Anchor instead of managing their own investments or the old school do-it-yourself DYI mentality."
Who do you know that is currently managing their own money? Who do you know that is currently managing their own money AND has NO comprehensive financial plan that is tailored to their specific goals and purposes for their money.
"What an opportunity for the advisors at Anchor Wealth Management working as fiduciaries which puts us in a position to help more people seeking guidance and a strategic partner for managing their wealth."
Be our eyes and ears by letting our team know when there is someone that can benefit from our advice!
5 Summer Savings Tips to Not Burn Your Budget While Traveling this Summer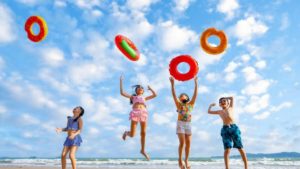 Summer is a season filled with wanderlust and adventure, but it's also a time when expenses can quickly add up, leaving your budget far behind. However, with a little planning and some clever strategies, you can enjoy a fantastic summer getaway without breaking the bank. Our experts at Anchor Wealth Management recommend the following tips including planning your trip at least 45 days in advance to get the best deals to enhance your experience and increase the savings in your wallet.
Navigate Accommodation Options and Find Your Budget Oasis
Consider an alternative accommodation to a standard hotel. Explore vacation rentals, hostels, or even camping. Websites like Airbnb, Hostelworld, and Hipcamp offer a range of affordable choices that can significantly reduce your accommodation expenses.
Be flexible with your travel dates. Prices vary greatly depending on the time of year and the day of the week. By being flexible with your travel dates, you can take advantage of lower rates and special deals. Consider traveling during weekdays or slightly off-peak season when prices tend to be more budget friendly.
Fuel Your Travel Bug Without Draining Your Wallet When Traveling
Plan ahead and compare prices. Book your transportation tickets well in advance to secure the best deals. Be sure to compare prices across different airlines, trains, or bus services to find the most affordable options. You can also consider alternative modes of transportation. Instead of solely relying on planes or long-distance taxis, explore other transportation options like buses, trains, or carpooling services. These alternatives can often be cheaper, especially for shorter distances, and can provide an opportunity to enjoy the scenic routes during your journey. Booking platforms like Expedia and Kayak offer a one-stop solution for savvy travelers, providing access to exclusive deals, discounts, and the ability to compare prices across multiple travel platforms.
Dining on a Budget
Pack your own snacks. Avoid expensive airport or gas station snacks by packing your own. Fill a bag with non-perishable items like granola bars, dried fruits, or nuts. Not only will this save you money, but it also ensures you have healthy options readily available during your travels. Don't forget to explore street food. When dining out, consider exploring local markets or food stalls. Not only do these offer an authentic culinary experience, but they are often more affordable than restaurants. By immersing yourself in the local food culture, you can savor delicious meals without burning a hole in your budget. We also recommend researching local coupons and deals to optimize your budget strategy. Online platforms, such as Groupon, Honey, or coupon.com, can highlight seasonal savings or coupons that are available for use.
Unlock Budget Friendly-Adventures with Research
Take advantage of free attractions. Research and explore attractions available at your destination. Parks, museums with free admission days, public beaches, and cultural festivals are great options to enjoy the local scene without spending a dime. Look for group discounts and packages. Many tourist destinations offer discounted packages for popular activities and attractions—especially on weekdays. Look for group rates, combo tickets, or bundled offers that include multiple attractions. These packages often provide significant savings compared to purchasing individual tickets.
Keep Your Budget Cool When the Heat is On
Set a budget and track expenses. Before embarking on your summer travels, establish a realistic budget and stick to it. Monitor your spending by keeping track of expenses using a mobile app or a simple spreadsheet. This will help you stay accountable and avoid overspending while exploring your travels. At Anchor, our financial planning experts are ready to help you create a budget that is realistic and fits your family's lifestyle. When it comes to discovering free activities while traveling, there are also several apps that can be your go-to resources. Culture Trip is an app that provides insights into destinations and local culture. It also offers articles and guides highlighting free activities and attractions in different cities. Eventbrite also lists free events and activities happening in various travel destinations. TripAdvisor, a widely used travel app, not only offers reviews and recommendations but also lets you filter and search for free activities in your destination through its "Things to Do" section. Traveling during the summer doesn't have to burn a hole in your budget. Remember, the key to a budget-friendly summer travel experience is planning ahead, being resourceful, and making conscious choices. So, go ahead and embark on your summer journey, knowing that you have the tools to keep your budget intact and make the most of your travels.
Adam's Nightstand
This month, Adam is reading Atomic Habits: An Easy & Proven Way to Build Good Habits & Break Bad Ones by James Clear.
Habits do not restrict freedom. Habits create freedom. In fact, people who don't have their habits handled are often the ones with the least amount of freedom.
This concept throughout the book really resonates with me. A couple examples would be: without good financial habits, you will always be struggling for the next dollar or without good health habits, you will always seem to be short on energy.
I am working on creating better habits for my life so that it will lead to greater freedom!
I would recommend this book as it is extremely powerful but will require maximum effort on the readers part to apply the principles within the book.
Chris Perry Goes Wild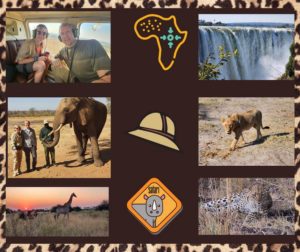 Chris Perry and his wife Megan celebrated their 12th Anniversary with an amazing trip to Africa.
Their trip began in Zimbabwe where they took a helicopter ride over one of the Seven Wonders of the World, Victoria Falls.
Visiting just after the rainy season, the falls were at their strongest. It was a spectacular sight.
Chris and Megan had to take 2 bush planes to arrive at the Okavango Delta. They stayed in a remote lodge and got to experience the most wildlife. They saw leopards, elephants, cheetahs, water buffaloes, giraffes, hippos, zebras, and lots more in their natural habitat. A pride of lions even walked past them. Thankfully a water buffalo looked like a better lunch.
Chris said the delta was like visiting a real-life Jurassic Park.
They travelled to the Zambezi National Park in Zimbabwe. Chris and Megan stayed in a lodge on an island on the Zambezi River. The highlight of their time in Zambezi was visiting an elephant conservation reserve where they fed elephants and walked along side of them.
The next time you are in the office make sure to ask Anchor's official safari guide about their trip.