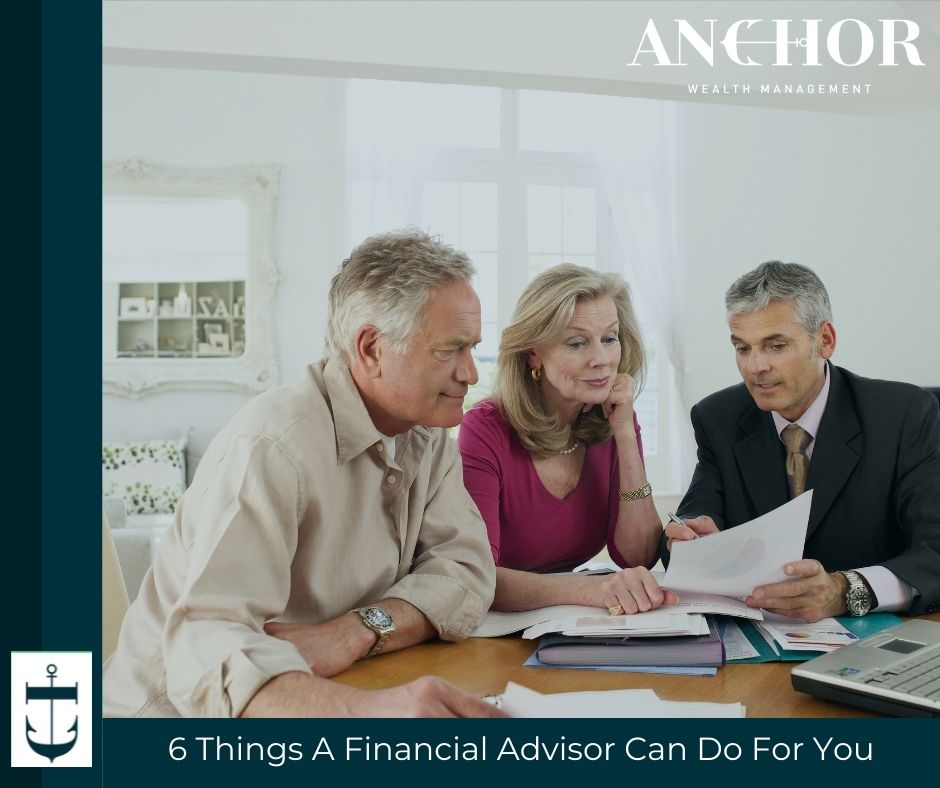 Here at Anchor Wealth Management, we are proud to be the financial advisory team that you can count on. Some of our clients come to us knowing exactly what they want. Others, though, are unsure what type of financial services they need. We often get the question, "What can you do to help me?" The answer is, "A lot!" 
Our exact path to your financial success will vary depending on your current financial situation as well as your future goals. Below, you'll find a list of just a handful of services a financial advisor can offer you. 
What Can a Financial Advisor Do for Me? 
Financial advisors can play multiple roles. They can advise you about anything from investing to paying off debt, they can help you budget or create a plan to send your kids to college. They wear many hats, but at the end of the day, their goal is to help you experience financial freedom one step at a time. 
Each financial advisor is different. They may specialize in one field or another or they might have different backgrounds or degrees. As your Lanark and Rockford financial advisors, we want to help you create a solid and actionable plan to help you pay off debt and plan for your financial future. 
Financial Advisors Can Help You…
Manage And Pay Off Debt
Debt, whether it is student loans, medical bills, or credit cards, can wreak havoc on your financial success. While it can be tempting to stash money away into investment funds, our goal is for you to pay off all debt, excluding your mortgage, in a timely manner. Right now, your debt is a tether holding you back. When you remove that tether, you can begin your journey toward a brighter financial future. 
A financial advisor can help you create a custom debt repayment plan that involves utilizing Dave Ramsey's 7 Baby Steps to pay down your debt. This is an important step in a long-term financial plan for the future. 
Plan For Financial Goals
Many of us have financial goals we would like to meet. These goals can include owning a home, retiring early, paying your child's college tuition without loans, ending your reliance on credit cards, or gaining financial stability before having a baby. When you discuss what your goals are with your advisor, they can help you create a comprehensive financial plan to reach them as soon as possible. 
Make Smart Investments
You have enough on your plate without having to wade through the sea of uncertainty that comes with knowing where to invest your money. Should it go into a 401K? A savings account? Should you buy gold bars and hide them in the floorboards of your home? It's hard to know just what a "good" investment is. Thankfully, financial advisors have an immense depth of understanding when it comes to your investment options. They can look at your financials, assess your needs and wants, and guide you toward the most logical decision that can set you up for financial success. 
Plan For Retirement
What do you think of when you hear the term "retirement planning?" Frankly, this looks different to different people, and a financial advisor's job is to help you choose the right type of retirement planning for your situation. Whether you are fresh out of college or are about to turn 50, a financial advisor can help you get on the right track toward a financially healthy retirement. 
Financially Protect Your Loved Ones
No one likes to imagine what will happen to our loved ones when we pass — but it is still important to do so. You want to ensure that your spouse or children who rely on your income are protected in the event that the unthinkable happens. Financial advisors can assist with estate planning so you can feel assured that your final wishes will be carried out after you pass. They can also assist you in choosing the right life insurance plan that is right for your specific needs. 
Stay Accountable
A financial advisor can provide you with a roadmap to success, but ultimately, you are the one who needs to decide to follow it. That is exactly why financial advising isn't a one-and-done deal. At Anchor Wealth Management, we are here to build a lasting relationship with our clients so that they can stay accountable. Budgeting, putting your hard-earned money into your debts, cutting back on luxuries… it isn't always fun. We know that, and we are here to regularly check-in, answer your questions, and adjust your plan as needed so that you can have the best opportunity to pursue financial freedom. 

We Are Your Financial Advisors
Are you ready to begin your journey with Anchor Wealth Management? We begin all of our relationships with potential clients with a fifteen-minute phone call to get to know you on a personal level and understand your challenges and goals. Then, we will schedule a one-hour complimentary review where we can educate you on your current situation and how it might pan out in the long-run. At this time, we can make recommendations to help you meet your financial goals. 
After that initial consultation and review, we can begin to work hand-in-hand to implement a plan of action. Finally, we can continue to be your anchor, helping you stay the course and keep you accountable toward your goals. 
Reach out to Anchor Wealth Management today to discuss how our financial advisors in Rockford and Lanark can help you.