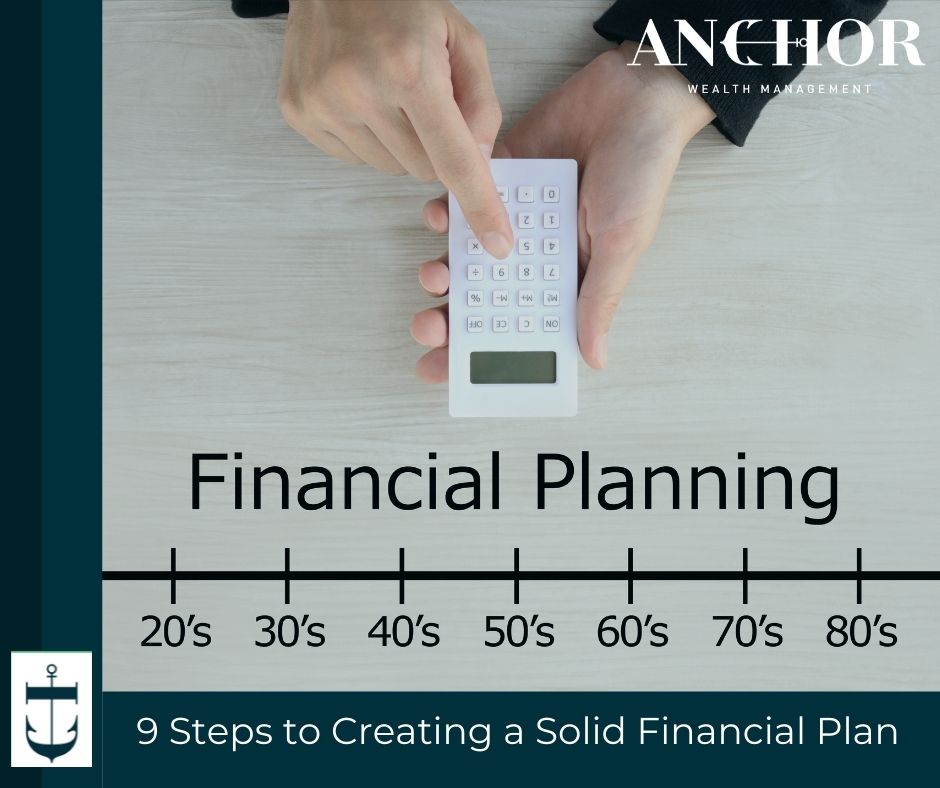 By Adam Ludwig, CEO & Wealth Advisor
Does the thought of your financial future leave you uncertain or anxious? Many people feel this way because they do not have a solid financial plan in place. A comprehensive financial plan is a road map that sets you on the path to reaching your life goals. Developing a plan helps reduce the stress that often surrounds personal finances. As you work with an Anchor advisor we will give you a clear picture of where you are now, layout plans for the future, and help you determine how you will achieve your goals. Here are 9 steps to get you on your way to an effective plan that brings you financial confidence.
1. Identify the Need for the Plan
Before you meet with one of our advisors to plan for your financial future, think about what triggered you to create this plan. Maybe you are just starting to think about your retirement, or your financial goals are changing; whatever the cause, it is important to understand your "why" before planning "what" to do with your money.
2. Identify Sources of Income
The more information you have for your Anchor Wealth advisor the better. Before you meet with one of our professionals, make a comprehensive list of your assets. You should not only keep tabs on your savings and checking accounts but also know what your current investments look like. If you have pensions, a 410(k), or IRAs, make sure you have an accurate record of those funds before you meet with your advisor. It is also important to track down any liabilities you may have, such as mortgages, college debt, and car loans. This information gives us a clearer picture of your finances, allowing our advisors to build you a plan that best fits your needs.
3. Establish a Solid Budget
Create an itemized list of where your money is going each month. This will give you and your advisor an accurate depiction of how you are currently utilizing your income.
4. Create a Bucket List
What are your dreams for your future? Beyond retiring, how do you want your money to work for you? With a solid plan, we can get you to your dreams.
5. Find a Trusted Advisor
As markets change and you go through different stages of life, your goals will change, and so should your financial plan. This should be a living document that adjusts as needed. You need an advisor who will be there for you throughout those changes in your life. At Anchor Wealth, we know financial planning cannot be done with a one-size-fits-all approach. Our advisors will present you with a range of options and the steps to help you achieve them.
6. Be Prepared
Have your financial information submitted to your advisor before you meet. This allows your advisor to be prepared to discuss your goals and some of the best approaches to meet those goals. Go into your meeting with an open mind and a willingness to be flexible. Write down any questions you have for your advisor. Most importantly, be prepared to ask when you can retire, and what options you have to meet your goals.
7. Set Financial Goals
It is important to set financial goals. Maybe you want to set aside a percentage of your income for savings, or possibly you want to create a yearly vacation fund. Having meaningful goals puts you on the path to financial freedom. Goals not only hold you accountable but also give you the motivation to stick to budgetary decisions that can seem difficult in the moment. Our advisors will listen to your goals, create plans designed to achieve them, and adjust your plan as those goals change.
8. Trust the Plan
The first year of your plan will be the toughest. Trust the plan that you and your advisor have created. You cannot predict the highs and lows of the economy, so reject the temptation to time the market and jump out when things are down. Stay the course, stick with your plan, and trust the process. You can always reevaluate and adjust accordingly.
9. Retire
The final step: retire! This is often one of the most difficult steps because many people aren't sure if it is actually feasible for them to stop working. You will spend a large portion of your life thinking about and planning for your retirement, once you get to that juncture, enjoy it!
Remember, a financial plan is not just about saving money to retire. Whether you want to pay for your children's education, live debt-free, or travel the world, developing a strategy for your hard-earned money will put you on the path to achieving your goals. It is inevitable that life will bring you unexpected financial ups and downs. When you meet with an Anchor advisor, we strive to take the stress and uncertainty out of managing your finances. Our professionals will look at where you are today, determine where you want to be in the future, and create a simple, step-by-step approach designed to get you there.