1st Quarter 2022 Newsletter
Starting today, most of the people you know have made a commitment to themselves to start getting healthy. Outside of eating healthy Monday through Thursday only to blow it on Friday through Sunday consistently every week, I am mostly unqualified to give advice about getting in shape. But, I do know that stress can be a contributing factor to poor health choices and that finances can be the greatest stressor for many. So here's how I can help you reach your health goals this year; I've created a 10-point financial check up that can help eliminate your financial stress and clear room for you to focus on your physical help.
10-Point Financial Check Up
It's really easy to get caught up in some bad spending habits through the holidays. Take today to refresh your budget and identify areas that need to be adjusted. Look for areas that you could easily trim the fat (New Year's Resolution Pun!)
Plan Your Charitable Giving
There are so many worthy causes to give to, it can be overwhelming to try to overexert yourself to help everyone who needs it. Identify your values and the legacy you want to create with your gifts and plan in advance. Turn your stress into an opportunity to bless.
Make Sure Your Will or Trust Are Up To Date
If you've taken the first step in having a will or trust, congratulations, you're doing great! Your financial plan should adjust as your goals grow and change. Check to make sure your beneficiaries are up to date and that your will and trust are aligned with the goals of your financial plan.
Take a snapshot look at all of your coverage. Make sure that you are appropriately covered for home, health, and auto. Then consider additional coverage such as term insurance, disability insurance, and long-term care. Just like your will, make sure all of your information is correct and up-to-date.
Review Your Employer Plan Benefits
The beginning of the year is a great opportunity to revisit your employer benefit package and adjust. Can you increase your own contribution by 1%? Are you taking full advantage of an HSA if it is offered? Incremental changes now can have a large impact on your future.
If circumstances such as the child tax credit or maybe an increase in wages have allowed you to have more money, tell that money where to go! It's a much better option than getting to the end of the month and wondering where it went. If you have extra cushion in your budget, start with a plan to attack your outstanding debt excluding your mortgage..
Review Your Taxes and Your Tax Strategy
Educate yourself on any tax law changes that take effect on January 1. Measure your financial plan against the changes and make adjustments (or ask your financial advisor to make adjustments) that create a tax-efficient strategy for you.
Look At Your Retirement Date
Plans change. Maybe you've decided that you would like to retire sooner. Perhaps looking at the date you've set makes you too anxious and you want to push it out another year. That's ok, it's perfectly fine to change your life plan, but make sure your financial plan changes too.
The beginning of a new year means one year closer to your retirement. Make sure your portfolio is weighted appropriately to reflect the right amount of risk versus reward.
While a lot of people would prefer not to commemorate last year, it is valuable to look back and recognize the things that went well and the things that didn't. Do more of the things that worked for you and reevaluate the things that didn't work.
Working through this list is a great way to start your new year. While you can complete any of these items on your own if you have any questions or would like a few tips on how to make this your most financially-fit year to date, give the office a call. It would be an honor to help you.
---
Social Security Cost Of Living Adjustment For 2022
More than 64 million Social Security recipients will begin seeing a cost-of-living adjustment in their monthly payments. The 5.9% increase represents the largest increase in Social Security payments since 1983. Be sure to review your financial plan and make sure you are accounting for the change! Call our office to schedule a review of your financial plan.
---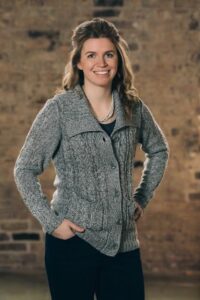 Team Member Spotlight: Wealth Advisor, Rianna Caswell
What does your day-to-day look like in the office?  
The bulk of my time is centered around client meetings. Whether in person or virtual, it's great to connect with clients regularly to make sure we are keeping up with their life changes and adjusting the investment goals accordingly. I love hearing about the progress someone is making, the fun trips they've taken, or the debts they have paid off! Preparing for meetings and following up afterwards are important parts of my day as well.
What has surprised you the most about your time with Anchor Wealth?
How well all our team works together. I hear horror stories from friends about difficult coworkers but I'm completely clueless, on a practical level, about what that looks like. 😊
Do you have a particularly meaningful moment with a client you would be willing to share? 
I have had many "lightbulb" moments with clients where, after diligently saving for many years, they are surprised at the solid financial position they are in – perhaps they can retire earlier than they thought, or their net worth is higher than they imagined when they see it all together. Seeing clients realize that is rewarding. Also rewarding is seeing clients realize that money is a tool and someone's "net worth" is not a measure of their actual worth.
What is something that your coworkers would describe as "So Rianna?"
This is a tough one. You'd have to ask them! Perhaps being competitive in sporting events. Challenging the status quo. Bringing the "realistic" side to an optimistic discussion!
---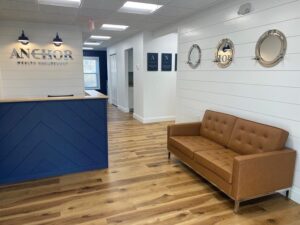 The Freeport Office Is Open
Our newest location is officially open! Make plans to visit the new office and say hello to Kirk and Wendy. They will both be there full time with a rotating schedule for our advisors. This Freeport office allows us to better serve our clients by making it easier to work with Anchor at a location that is convenient. Call 815-201-5011 to schedule your appointment in Freeport.
FREEPORT OFFICE:
1013 Loras Dr., Ste. A, Freeport, IL 61032
---
Financial Peace University Classes Begin January 10
We are excited to be teaching FPU once again! Classes will be hosted in our Rockford office and enrollment is limited. FPU is great for individuals who are just starting their journey towards financial independence and for those who may just need a refresher course on good money
habits.
Class sizes are limited, enroll at fpu.com/1140825.
---
Lights, Camera, Anchor! 
Our team recently filmed a new video to help introduce the team and the philosophy behind our approach to financial planning. Filming was fun and we all had to get out of our comfort zone to be in front of the camera. Did Adam remember his lines? Who ate all of the M&Ms in the green room? Who is the biggest diva on the team? The video won't answer these questions but it's a great watch.
---
Securities offered through Registered Representatives of Cambridge Investment Research, Inc., a broker-dealer, member FINRA/SIPC. Advisory services offered through Cambridge Investment Research Advisors, Inc., a Registered Investment Adviser. Anchor Wealth Management and Cambridge are not affiliated.
Indices mentioned are unmanaged and cannot be invested into directly. Past performance is no guarantee of future results. Investing involves risk. Investors should be prepared to bear loss, including loss of principal.
LANARK OFFICE:
126 N. Broad St.,
Lanark, IL 61046
P: 815-201-5011 | F: 815-201-5012
E: Info@Anchorwm.com
ROCKFORD OFFICE:
4949 Harrison Ave. Ste. 110
Rockford, IL 61108
P: 815-201-5011 | F: 815-201-5012
E: Info@Anchorwm.com
FREEPORT OFFICE:
1013 Loras Dr., Ste A,
Freeport, IL 61032
P: 815-201-5011  | F: 815-201-5012
E: Info@Anchorwm.com