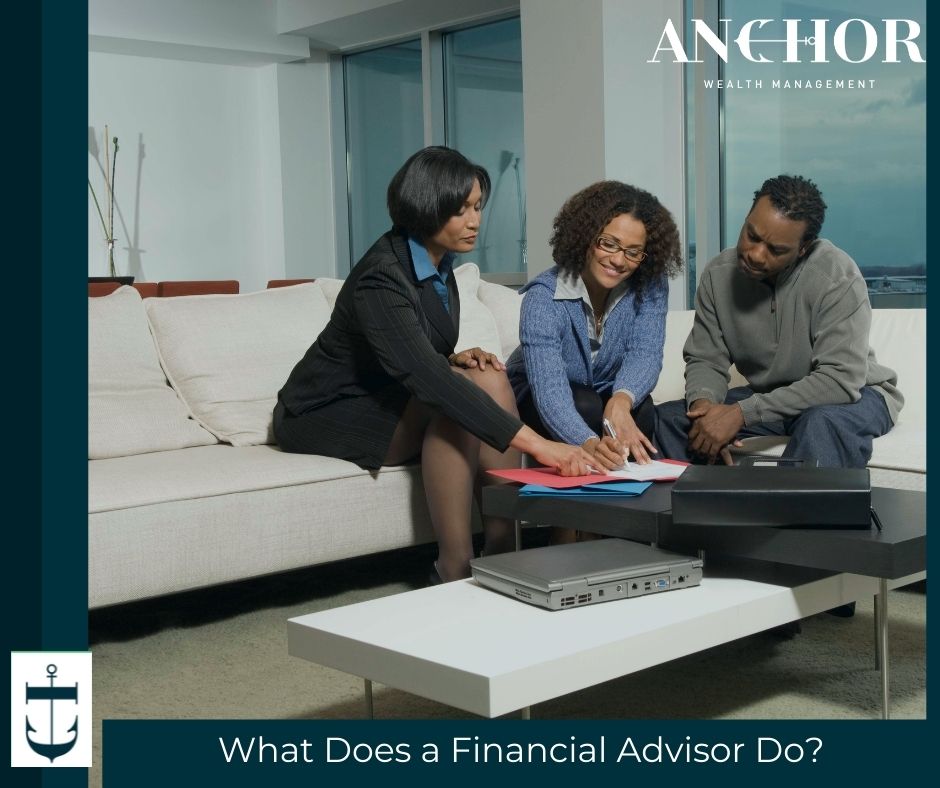 Michelle Boisvert, Sr. Wealth Advisor
Financial markets can be filled with uncertainty and doubt. This can make financial planning an overwhelming task; however, with the guidance of a trusted financial advisor, you can navigate the uncertainty and bring planning to your financial journey. Anchor Wealth advisors seek a complete understanding of your financial goals in order to create a comprehensive financial plan. We want to understand money's purpose in your life so that we can create a strategy to help you fulfill that purpose. With your desired end results in mind, our team of professionals will customize the best strategy for you to reach your financial goals.
Types of Financial Advisors
There are several options for financial planning. Some of the most common options are "do-it-yourself", online advisor services, and independent financial advisors such as Anchor Wealth Management. Many people jump into doing it themselves to avoid fees, but taking a DIY approach to financial planning may be stressful, time-consuming, emotion-driven, and could potentially cost you more money in the long run. A trusted advisor can look at your assets without emotional interference and keep your long-term goals in perspective.
When you choose the DIY route, you miss out on many of the advantages of using an independent advisor group. Financial planning is more than buying and selling stocks. Anchor Wealth specializes in a wide variety of services, such as estate planning, life insurance, charitable contributions, and tax efficiencies. All of these elements can work together to create a comprehensive financial plan that focuses on more than just growing your assets. A comprehensive financial plan put together by a trusted advisor will also focus on protecting and transitioning your assets.
With an online option, you may forfeit the benefits of having an advisor that knows your financial goals and is truly working in your best interest to reach them. Online advisors often become order takers, leaving the client with the task of planning their financial strategy. In contrast, our advisors spend about 70% of our day talking with clients in order to truly know their goals and only 30% on administrative tasks such as managing the investments. When you find a trusted advisor who takes the time to explore everything from saving for college to long-term care options, the stress that once surrounded financial planning can start to feel less overwhelming. For our team, seeing the transition from uncertainty to confidence in our clients is the greatest reward of the work we do.
More than Just Financial Advice
The day-to-day of a financial advisor looks more like a personal trainer or a coach than it looks like a daytrader on the floor of the NYSE. We see our clients as more than just an investment portfolio and work diligently to understand and explore your financial goals using a holistic approach. After we have a complete understanding of your wants and needs, we create a comprehensive financial plan to achieve your goals, and continually evaluate and modify your strategy as needed. Along the way, we help keep you motivated to maintain the process and help you understand that it is a process worth maintaining. At Anchor Wealth, we are focused on your money's long-term purpose, not its latest performance.
In every journey you embark on in life you will encounter highs and lows, and your financial journey is no different. Anchor Wealth will help you to prepare for and navigate those ups and downs. We are committed to creating a plan that ensures your money is working towards building the financial future you desire. If you are ready to have a purposeful conversation about your financial goals, call our offices today to speak with an advisor who can help you begin your journey to financial independence.