October 2023 Blog Newsletter
October Captain's Log

NOW Is The Time To Share Anchor Wealth Management With Friends And Family!
Read the headlines. United Auto Workers strike, nurses strike in Joliet, IL at Ascension St. Joseph Hospital, student loan payments restarted on October 1st, 30-year mortgage rates are almost 8%, and finally the political theater that is Congress.
I am a very optimistic person and try to spend very little time or none at all on negative news. I talk to people all the time and there are so many good stories and things happening all around us every day. Unfortunately, the good stories don't sell!
With challenges comes opportunity. With change comes the need to make adjustments.
I have seen this time and time again over my almost 20-year career. The BEST time to seek a second opinion if you are currently working with another financial advisor, if you are managing your investments on your own, or if you have never taken the first step in sitting down with a financial advisor is TODAY. The world is very different financially than it was back in 2020. Most likely there are adjustments that need to be made regarding your finances and with change comes opportunity. Take advantage of the market volatility and uncertainty. Down the road, you will be thankful.
We love referrals from our trusted clients. When you share with your friends and family how happy you are with the services our team at Anchor Wealth is providing for you, it is the highest form of flattery we can receive. We appreciate your gratitude!
Have your referral go to www.anchorwm.com and click on the "Begin Your Journey" bar in green and when completing their information add the person's name that referred them to the "Anything else you would like us to know or discuss?" field!
Or email Chris DeSchepper at chris.deschepper@anchorwm.com or call her at 815-201-5011.
Spooked About Planning For Retirement In 2024? Here Are 5 Steps To Take Today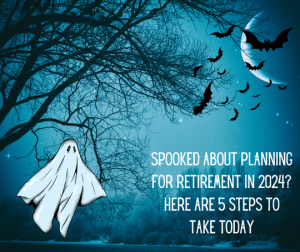 Retirement can be an exciting yet daunting prospect. It's a time to reap the rewards of your hard work and enjoy life to the fullest. However, the thought of retirement can also be intimidating, especially if you feel unprepared. If you're planning to retire in 2024, there's no need to be spooked. By taking proactive steps during the last three months of this year, you can set the stage for a comfortable and fulfilling retirement. Here are five essential steps to help you smoothly navigate the transition.
Assess Your Financial Situation and Retirement Goals
Start by taking a deep dive into your financial situation. Evaluate your savings, investments, and other sources of income you expect during retirement. Calculate your anticipated expenses, factoring in healthcare, housing, utilities, travel, and any other potential costs. Once you have a clear understanding of your financial standing, create a budget that aligns with your retirement goals.
Then evaluate your retirement goals and if your finances are positioned to meet those goals. Some common goals include:
Traveling
Owning a winter home
Asset allocation
Generational planning
Maximize Retirement Contributions Now
If you haven't already done so, contribute the maximum allowed amounts to your retirement accounts, such as a 401(k), IRA, or other tax-advantaged retirement plans. Take advantage of any employer match programs to boost your savings further. By maximizing your retirement contributions, you'll increase your nest egg and potentially enjoy a more financially secure retirement in the years to come.
Remember to regularly rebalance your portfolio to maintain your desired asset allocation and adapt to changing market conditions. A diversified portfolio can help safeguard your investments and provide a more stable source of income during retirement.
Don't Fear the Unexpected: Plan For It
It's equally important to prepare for the unexpected and safeguard your retirement savings by setting up an emergency fund. An emergency fund should cover three to six months of living expenses, including housing, food, healthcare, and other essentials. Having this financial safety net will provide peace of mind and help you avoid dipping into your retirement funds during challenging times. Potential emergency expenses:
Home and car repairs
Death in the family
A sudden move
Medical emergencies
Consult with a Financial Expert
Embarking on the path to retirement can be complex and challenging to navigate alone, which is where financial experts (like Anchor) can provide personalized advice and strategies to maximize your retirement savings and minimize tax liabilities.
Whether you are planning to retire in 2024 or 10 years down the road, a financial expert can provide peace of mind with financial education and guidance towards a comfortable retirement.
Seize the Retirement Dream
Retirement is the ultimate reward for years of hard work, dedication, and perseverance. It's the phase of life where you can finally take a step back, breathe, and savor the fruits of your labor. It's a time to embrace the dreams you've held close, the experiences you've yearned for, and the moments you've longed to share with loved ones. It's the time you saved and planned for, so don't be afraid of spending your retirement savings on things you enjoy and have always wanted to do. Take those vacations, visit your summer home, spend time with family and friends, and take the time to relax. You've earned it.
By Kirk Pearson, Wealth Advisor
Adam's Nightstand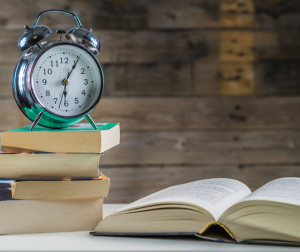 This month, I am reading 10x is Easier Than 2x, by Dan Sullivan with Dr. Benjamin Hardy
I love books like this!
Basically, the premise is there is way more clarity on what I need to BE doing and NOT doing when my goals for my life are 10x instead of 2x.
When you go after 10x goals they are big enough that there are only a few things that need to be done to reach that goal. 2x would be growing a business by 10% per year.
At 2x we can get caught up in things that are unimportant or micromanaging. 10x would be growing the business 10-fold over a 5-year period of time as an example.
It reinforces that growth and serving clients well is about quality, not quantity. Quality is about continually improving the value and the service we provide to our clients at Anchor Wealth.
It is never-ending when the desire is continual improvement, we have never arrived or reached our destination, we are always looking to improve both personally and professionally.
Highly recommend!
Tis The Season To Give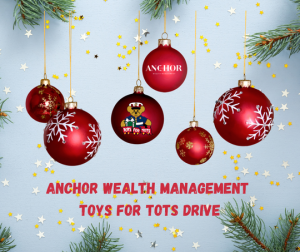 Spooky season is almost behind us, and Christmas is just around the corner…Yikes.
For the third time, Anchor Wealth Management is partnering with the Boone, Winnebago, and Stephenson County Marine Corps Reserve Toys for Tots campaign as an official collection site.
Last year, 14,090 new and unwrapped toys were collected and distributed to children in the tri-county area. Over 4,280 children ages 0 – 11 benefited from the generosity of others in our communities.
If you want to help make a child's face light up on Christmas morning, drop off a new unwrapped toy at our Rockford, Freeport, or Lanark offices.
November 30th is the deadline for donations. For additional information, check out the Toys for Tots website or call our office at (815) 201-5011.