September 2023 Blog Newsletter
September Captain's Log

Reflect On Your 2023 Financial Goals
As we approach the last quarter of 2023 let's not be complacent in managing our personal finances! Let's continue to be good stewards of the money we have each been trusted to manage.
My wife and I have had conversations recently while revisiting our budget and goals for our money. Currently, we have a sophomore in high school, a seventh grader, and a fifth grader.
My family is in a season (which we love!) of chasing our three children around from sport to sport, gym to gym, school event to school event. In this season of having to split up often and being on the road, there is no denying our biggest budget buster and weakness is going out to eat.
Let's face it cooking and doing dishes takes way more time and effort than getting home after a ball game versus another trip to Culver's!
My point in sharing this with you is that I feel it is an opportunity to revisit how the first 9 months of 2023 have gone for our financial goals.
Think about the opportunity we have; to be in a position of financial strength by living on less than we make and continuing to be good stewards.
When the rest of the world is facing record credit card debt, student loan payments have kicked back in, and inflation has remained persistent. Let's as a community of clients of Anchor Wealth run in the other direction by building our emergency funds, saving more for retirement, and being more aware of the financial decisions we are making.
Our Anchor Wealth team encourages having conversations regarding your goals for your money and discovering your money's purpose.
Let's continue as an Anchor Wealth community to be proactive with our finances and model to others the right way to build wealth over the long run.
Be proactive by talking to your advisor about strategies for your money such as rolling over an old 401(k), completing a Roth conversion, donating a highly appreciated investment to a charity, looking for a higher yielding savings account, establishing a college savings vehicle, setting up a small business retirement plan, the list goes on and on.
Be proactive by revisiting and talking to family and friends that you know who would benefit from working with Anchor Wealth.
Don't let the chaos and distractions of life keep you from ending 2023 in a better place than where you started the year. Take hold of your financial goals and set yourself up for a great start to 2024.
The September Syndrome: Myth or Reality?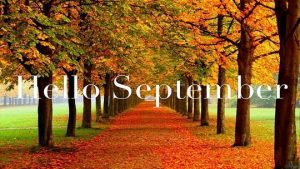 Traditionally, September's fall weather brings with it a fall in the stock market.The reasoning behind this notion is often attributed to various factors, including investors returning from summer vacations and reevaluating their portfolios, as well as corporations releasing earnings reports that might not meet expectations. In addition, some infamous historical market crashes, such as the Great Depression crash of 1929 and the 2008 financial crisis, occurred in September or October, further contributing to the perception of September as a risky month.
While September's historical stock performance might not be stellar, it's important to challenge the notion that the market's behavior is set in stone based on the month alone. The financial landscape is far more complex, influenced by many factors that can't be neatly encapsulated by a calendar date. Investors should approach their decisions with an eye on diversification, risk management, and a healthy skepticism of market myths.
Managing your investment portfolio
If you are falling into line with other September investors and reevaluating your portfolio, the first question to ask yourself is, "Have your goals changed?" Are you saving for retirement? Buying a home? Preparing for your children's education? Whatever the objective, understanding the market and steps to building a strong portfolio can help set you up for success. Here are some key steps to keep in mind as you invest:
1. Diversification: Maintaining a diversified portfolio across different asset classes and sectors can mitigate risks associated with the volatility of individual stocks. A well-balanced portfolio can help spread the impact of any negative market events.
2. Long-term perspective: Focusing on long-term investment goals and adopting a buy-and-hold strategy can help buffer against short-term market fluctuations. Remember that while September or other months may exhibit downward trends, the broader market tends to recover over time.
3. Stay informed: Keep a close eye on economic indicators, corporate earnings reports, the Federal Reserve, and news that might impact the markets. Stay informed about the current economic climate and subscribe to local financial institutions' newsletters (like Anchor Wealth Management) who send out monthly market updates to clients. Yahoo Finance is another resource that keeps it clean and provides financial and economic facts.
4. Avoid emotional decisions: Emotional reactions to market swings can lead to impulsive (and often poor) long-term decisions. Stay disciplined and avoid making drastic changes to your portfolio based on short-term fluctuations. Patience and staying calm are key.
5. Don't wait: If you are new to investing, don't wait for a specific month or time of year, as we always say, "The sooner you start investing and saving, the better." If the stock market is on the down swing and you've always wanted to start investing, it might be a good time to jump in while stocks are on "sale."
6. Seek professional guidance: If you're unsure about how best to manage your investments to meet your goals, seek help from a financial advisor who can provide personalized advice based on your risk tolerance and financial objectives.
While September may be infamous for its turbulent stock market, remember the key to successful investing lies in prudence, patience, and good preparation for market challenges that may come your way. Happy investing!
By Chris Perry, CFP, CTFA, Wealth Advisor
Adam's Nightstand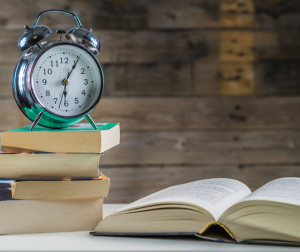 This month, Adam is reading "Undistracted:Capture Your Purpose. Rediscover Your Joy" by Bob Goff.
The world today is filled with a massive number of distractions; smartphones, social media, news, the list goes on and on. Creating doubt about our own abilities or comparing ourselves to others.
In light of these circumstances the book talks about how there has never been a greater opportunity than right now to be joyful!
What I love about this book is how the author uses stories to put things in perspective. Honing my purpose in my life will only increase my level of joy. I would recommend the book!
Out of the Woods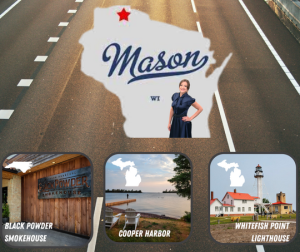 Jessie Walker, AWM's Project and Intergration Manager, and her husband Keith live in the northern woods of Wisconsin.
This summer, they travelled to North Carolina for a wedding. While in North Carolina they made sure they tried some authentic NC barbeque.
Their favorite place by far was the Black Powder Smokehouse; a local establishment in Jamestown, NC.
They loved it so much that they bought 3 cases of their barbeque sauces(4 different sauces each) – one pack for them to keep, and the other two to share with Keith's co-workers!
They highly recommend a stop there for anyone near High Point or Jamestown in NC.
The brisket sandwich alone was absolutely worth the drive.
From there, they headed home a roundabout way through the Upper Peninsula of Michigan, where we toured the historic Sault Saint Marie Locks, Whitefish Point Lighthouse, and stayed on the Keweenaw Peninsula in Copper Harbor.
The scenery was spectacular, and they enjoyed walking the grounds and buildings of Fort Wilkinson as well.